The Ultimate Film Actors Camp is a TWO SEGMENT program. It's a LAUNCHING PAD into the Los Angeles (or the actor's local) film industry. The international group of young actors is immersed in two segments of the most beneficial lessons available. Actors are are nurtured, honored, and celebrated for their distinctive needs and goals. We welcome ALL skill levels!
Search high and low for another program anywhere in the world that provides the same well-rounded education. If you find one, you may attend any camp on our site at NO CHARGE.

THE DECEMBER THROUGH MAY ONLINE SEGMENT OF CAMP (Optional. There is no additional charge and campers may begin at anytime.)
This interactive Skype segment of camp is included in your tuition. CLICK HERE TO REVIEW THE PRE-CAMP LESSONS. When participants take part in these optional lessons, they are much better prepared for intensive classes and meetings with industry executives. They will meet YAC teachers and campmates prior to their arrival. Pre-camp activities are NOT required but are highly recommended. It is not too late! REGISTER TODAY.
THE JULY RESIDENTIAL CAMP SEGMENT
Actors arrive from all over the world to a transformed Los Angeles-based college campus. The Actors Campus is a place where you'll find assembled the Hollywood film industry's most notable executives, actors, and companies. Rising film actors work in masterfully defined and exceptionally unique activities for artistic exploration and professional advancement in media. The following are just a few highlights…
Day 1, 2, 3 and 4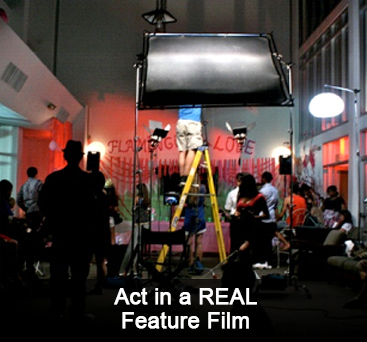 MAKE A FEATURE FILM
THIS PUT US ON THE MAP UNDER 'AMAZING SUMMER CAMPS'!! We provide an unparalleled opportunity for an up-and-coming film actor to gain on-set experience that will build their resume and add credits to their IMDb page (www.imdb.com). This major production provides an all-around education of the filming process, from the casting session to working with THREE production companies. The young actors will enjoy career assessing discussions with some of the professionals who work with them as they complete this real Hollywood FEATURE FILM.
Day 5
CHARACTER DEVELOPMENT
Character Development Exercise at Disney's California Adventure Park. Actors are assigned creative (yet powerful) character development assignments that will forever change this aspect of their creative process. THEN... We will enjoy Disney's California Adventure Park!
Day 6
Shoot a TV Commercial for a real local company
Together we will clearly define who the actor is for a commercial product. Experience a "real commercial audition" environment, learn product handling, and make strong connections with the camera. Actors tackle intense commercial script work on their own and with scene partners. We cover everything there is to know about working in the world of commercial acting.
Day 8
AGENT SCOUTING EVENT, ACTOR Q&A AND EXPLORE HOLLYWOOD
This will be the most inspirational day yet as we perform in front of agents, receive their feedback, have dinner with a famous actor and explore the city.
Day 9, 10 and 11
MAKE A SITCOM IN FRONT OF A LIVE AUDIENCE
This segment will add strong credits to the actor's resume. Friends and family are invited to be a part of the fun as we shoot a sitcom in front of a live studio audience. As the actors listen and wait for laughs from their studio audience, they will also learn to deliver a performance blocked for multiple cameras. The actor will balance the internal comedy with the external technicalities of the medium for an effective filmed comedy performance. Professional production companies will replicate television sets on location and in-house, giving the actor an authentic filming experience. All campers will be sent a link to their sitcom work.